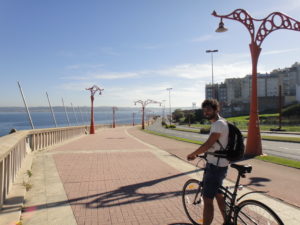 A Coruña, where we arrived after we crossed the Biscay, gave us a weird feeling. A massive beach, an old harbor circled with beaufiful buildings covered in huge white windows, the oldest active lighthouse of the planet, an old city full of hidden alleys, the city has a lot to offer. But that's not what we are looking for. It's a big city, and it feels like a big city. We wander on the streets on our bikes, we enjoy tapas in local restaurants, but it's as if our travel hadn't really started yet. We long for rias, forests and lost villages.
We leave, and we aim for Laxe, the first ria southward. We harbor at dusk in a beautiful beach. There's already a lone sailboat there, but she leaves first thing in the morning. Yet again, we have mixed feelings about the place. We discover a cute old town surrounded by modern buildings. We wander, we meet a cat (Sarah needed to meet one badly), we walk bare feet on the sand, we feel sorry for a couple of injured seaguls slowly roaming around, dragging their broken wings behind them…  but unfortunately, there's nothing we can do for them. It's the first time we anchor by ourselves at night in an unknown bay, which is in itself a real milestone for us, but we still haven't found what we're looking for in Galicia.
.
We hit the road (the see?) again the next day, towards the ria of Camarinas, last top before we pass the cape Finisterre. Our plan was to stop at the entrance of a small river, sorrounded by forests, one of the wildest places on the caostline, but we're welcomed by a dense fog. Suddenly, we notice a zodiac, less than 50m away, out of nowhere. We can't see a damn thing, and we klaxxon our way throuh the bay. The GPS tells us there's a coast right along us, but we can't even guess any shape through the huge white mist blanketted around us. We take shelter in Camarinas's harbour, where we had spent one night last May while we were sailing back to Britany. The heavenly anchorage will have to wait, for now we're happy to enjoy the harbour's safetyness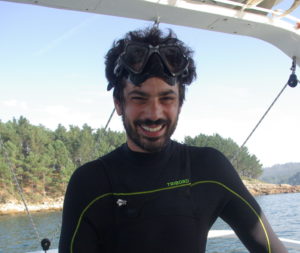 The night is gone, and so is the fog. This time, this is the real deal. We can see the river only a few yards away. We drop our lines, and replace them a few minutes later by 30m of heavy chain and our huge anchor. There are oversized trees everywhere, the place almost feels like Canada. The water is only 17° warm, so bathing without a suit is out of the question. There's not a square inch of skin exposed on me when I dive to clear Lucy's of the algae she had caught in her rudders and propeller during the passage.
Apparently, there's a small city one can reach with its dinghy, 2 miles up the river. The water is too shallow for Lucy, and we leave here for the afternoon. The shore is only fifty meters away, so the anchor better do its job properly. That's also a good excuse to try our new 6cv outboard, which replaced our old and sick 4cv Honda. With a beefy enough outboard and a good dinghy, one can theoratically surf the water. It doesn't work for us, untily I notice the wheels are dragging in the waters. What would have been a tiny detail with the old outboard is a big deal with the new one. A few seconds later, we're now speeding on the flat waters of the river. Reaching Rio Del Puente would take us less than 10 minutes.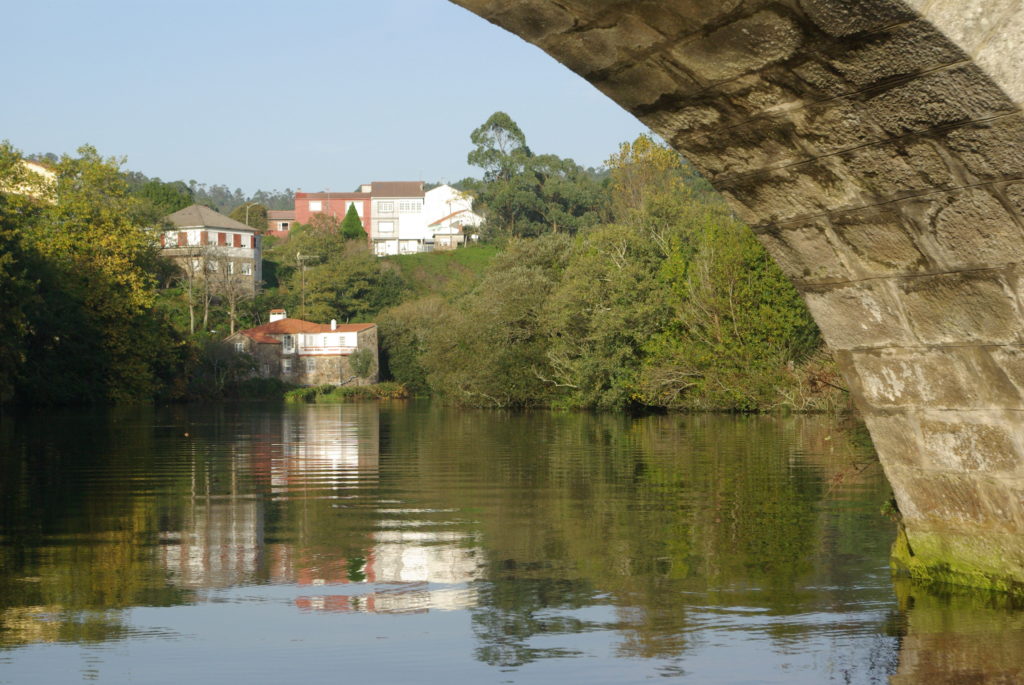 The place is charming. An old stone bridge, antique houses that have been here forever and are probably not really used to toursits, we're not dissapointed. The forest surrounds the city, we encounter a donkey in a field, and we see weird stone cellars on stilts. The tortilla we savor on the village main plazza tastes fantastic, and it's with broad smiles that we take the dinghy back to Lucy in the setting sun. The scenery is unbelievable. We're alone, the river is framed with towering pines, dominated by hills and moutains in the distance. Shadows are oversized, and the whole scene looks almost unreal. Sirah pilots our boat around the algaes at a crazy speed, and we're both laughin for no reason, like kids. This time there's no doubt, we found what we came for!